ETCHED GLASS DOORS, RAILINGS, PANELS & PARTITIONS
Etched glass doors, panels and partitions create striking architectural elements in any home or office, and artfully divide space.
ETCHED GLASS RAILINGS
Etched glass railings can meet all building code requirements and will not obstruct your view.
"WAVE RAILING" (above): This 10′ glass railing is a focal point in the entry-way of an artfully-decorated home.
"JELLY FISH, KELP & CORALS RAILING" (below): This etched glass railing featuring jellyfish, kelp and soft corals below separates the dining room from a sunken living room in a spectacular, ocean-view home.
ETCHED GLASS PANELS
"BRIGHTON LACE": These etched glass panels were created for an 1800's cottage in Brighton England. The etching process captures the extremely detailed, exquisite lace that was typical of that period. Whatever vision you have, we can create it in an etched glass panel.
ETCHED GLASS WINDOWS OR PARTITIONS
'SIERRA SCENE": This etched and carved glass window is 48" x 66". The process enables us to illustrate in great detail 36 animals that inhabit the Sierras at an elevation of about 5,000 – 7,000 feet, and creates different texture, depth and dimension—a beautiful reflection of the landscape.
ETCHED AND CARVED GLASS DOORS
"Wave" entry, An etched and carved three panel entry featuring a sidelight, a door panel, and a window of 3/4" lo-iron safety laminated glass in a Marvin entry system. The beach house is located on the sand near Santa Cruz, CA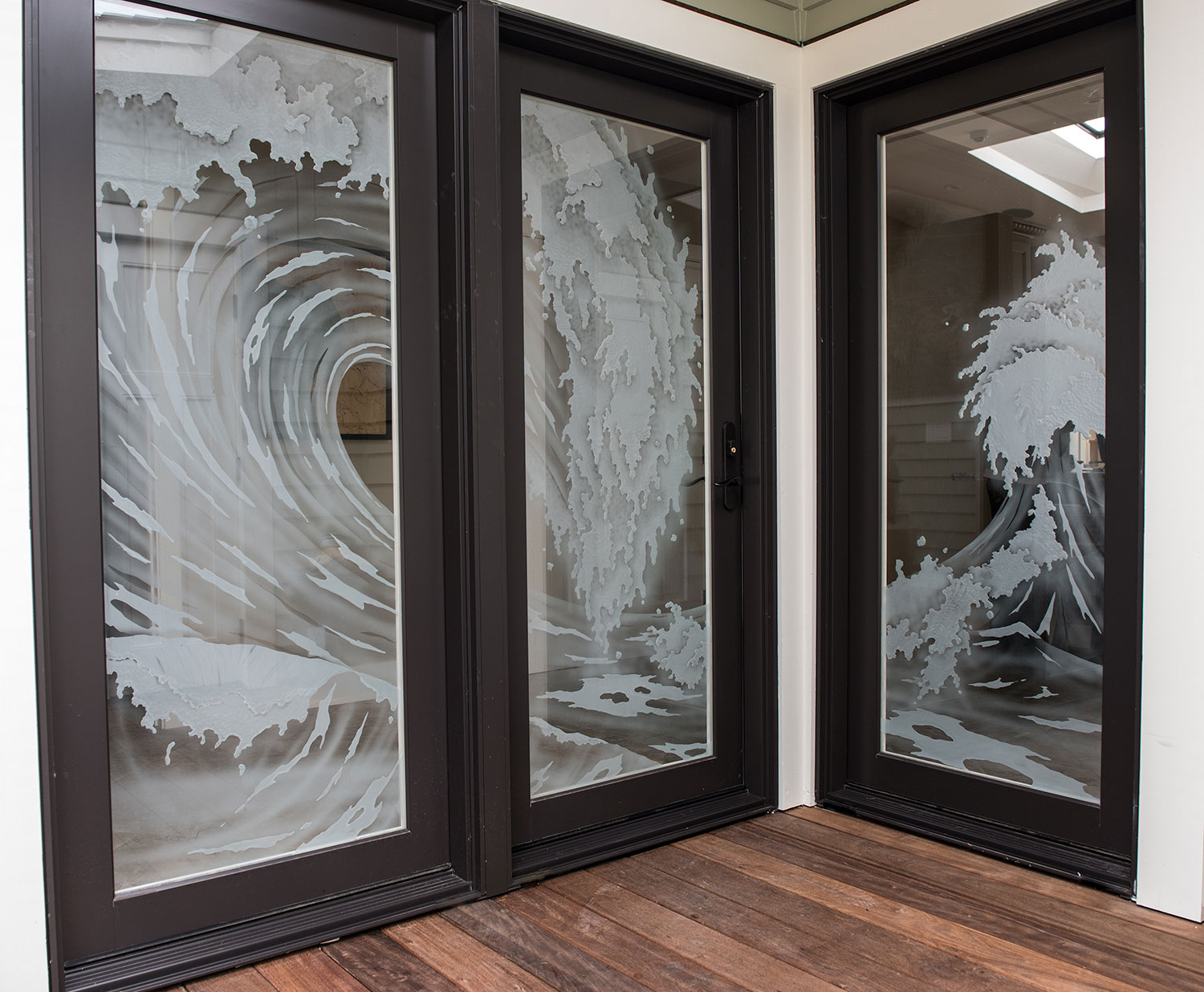 "MONSTERA AND BANANA ENTRY": These tropical-themed etched and carved doors and side panels allow in the light while providing partial obscurity. Your eyes are drawn to the lovely artwork as opposed to what is outside.